There are a some pieces I've done for other sites. I'll keep them updated here. Consider this a checklist. A MANDATORY checklist.
Nailed Magazine
LitReactor
I'm working as a columnist for LitReactor! If you like what you see anywhere on this web site, one of the best ways to support me is to share these columns, and if you're feeling extra charitable, buy a book. I do news as well, and if you're interested in everything I've done for the site, you can click here.
Elegy For A Dead World: The Poetry Game
What In The Hell Is Wild Animus?
32 Valentines: Showing Love For Books And Writers
Crazy In Love: 5 Authors And Their Stalkers
The Art and Necessity of Love Letters
Ready Writer One: Interview With Gabe Durham of Boss Fight Books
Crappy New Year: 5 Failed Writing Resolutions
Give: Volunteer Your Cow Fart Knowledge As A Writer
Survive The Holiday Party, Leave With Material
Create Your Own Wikipedia Tome
5 Things Bodybuilders Know That Writers Don't
The Pleasures of Writing At Night
Locked Up: Books for My Father
Testing Lab: Gifts for Writers
Can We Build It? 5 DIY Bookshelves
Should You Be Reading Archie Comics?
On Weed: Should Writers Write While High?
White Guilt: 10 Books For The Betterment Of The Straight White Male
Bible Thumping: The Good Book For Writers
Eat Lightning, Write Thunder: Writing Lessons From Rocky Balboa
Offer The Coffee Branch: A Plea For Peace From A Coffee Shop Writer
Book Breakups: Tell The Story, Break Up With A Bad Book
9 Great Poop Reads: Taking Literary Structures From Classroom To Bathroom
Cultured Vultures
Here you can find my page for Cultured Vultures. So far I've got a column about fancy men's underwear and a column about the time I tried Kim Kardashian's Fit In Your Jeans By Friday workout.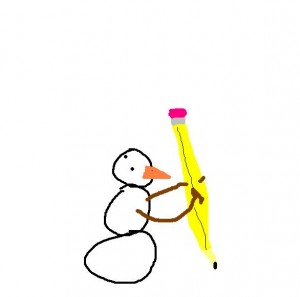 Thanks for reading my stuff. Now pay, ya jerk!
I have a handful of titles available on the Kindle store. Check them out. By which I mean you should pay for them.
In all seriousness, follow me on Twitter. I make everything I've got free maybe every quarter or so, which is as often as Kindle allows.
Barehanded: Poems
My collection of poems. It's a quick read, and not a bad collection for people who don't like poetry, in general. Super-accessible.
.
.
.
Origins
This is the one you want to read if you like this web site. What you'll find here is a collection of some early, early blogs. I'm talking MySpace, if that timestamps it for you. Learn the origin of Helpfulsnowman.com, which has a lot to do with pee. Surprise.
Get it on Amazon.
.
.
.
Tough Shoot: a short essay
This is a quick essay I wrote during my time at Tom Spanbauer's intensive Dangerous Writing workshop. Which I recommend to anyone. The workshop, I mean. The essay is good, but not THAT good.
.
.
.
The First of Me: Stories
A nice little collection of short stories. Older stuff. You'll find something you like in here.
.
.
.
Ninja Sons
Ah, Ninja Sons. Easily one of the stupidest things I've written. Which is saying something. I've written about a machine that turns any liquid into urine. See Origins for details.
Buy Some Other Shit on Amazon
I also review a lot of stuff on Goodreads. And by "review", I mean write stuff that's kinda related to whatever I'm reviewing.
On-going fiction project:
Fiction:
Non-Fiction:
The Way Woody Tells It (as published on biostories.com)
Poetry:
A Short Screenplay: